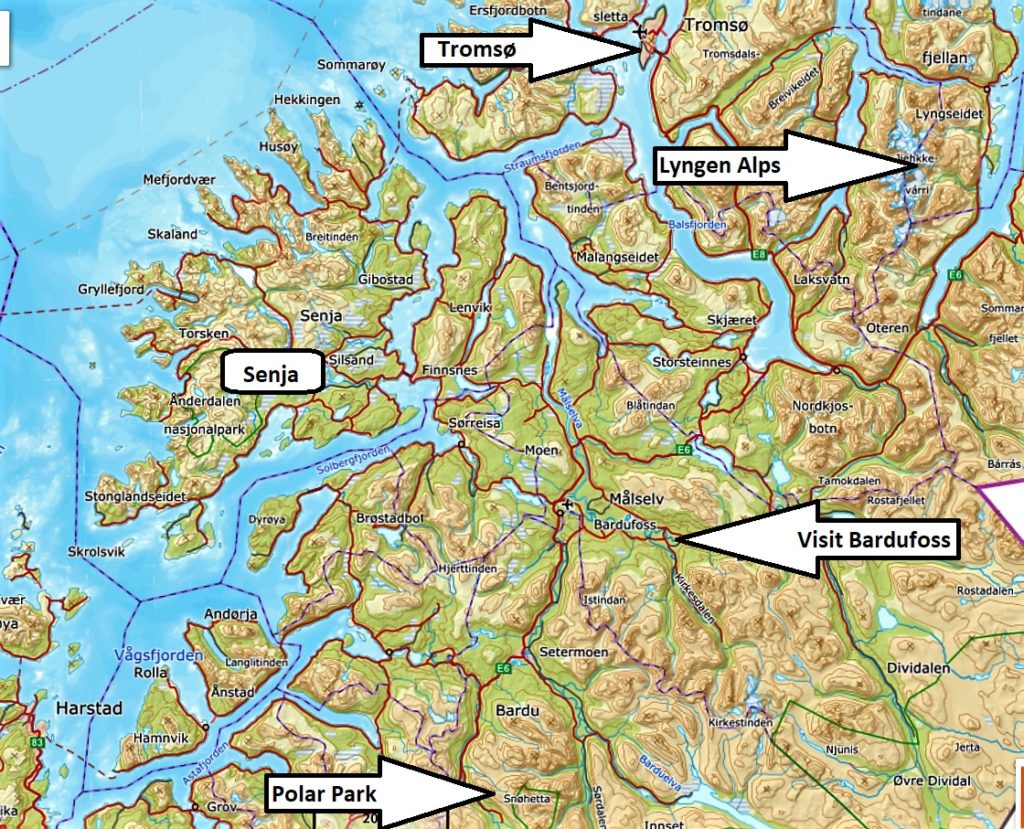 Polar Park – the world northernmost animal park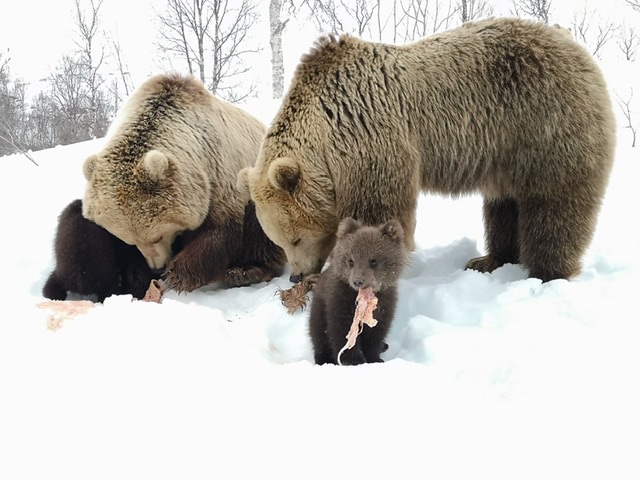 Polar Park er hjem til Nordens store rovdyr som bjørn, jerv, ulv og gaupe i tillegg til Nordens hjortedyr som hjort, elg, reinsdyr og moskus.
Polar Park er en opplevelses -og dyrepark i Bardu kommune i indre Troms. Den åpnet 18. juni 1994, og baserer seg på å vise fram dyr i sine naturlige omgivelser.
Dette innebærer at hver art får mye plass å boltre seg på – med 1100 mål fordelt på bare 12 innhegninger har parken verdens største areal per dyr. Sist vinter ble det født tre bjørnunger i parken.
Polar Park Arctic Wildlife Centre, the world's northernmost animal park and home to Norway's large predators such as bears, wolves, and lynx as well as deer, moose, reindeer and muskox.
Polar Park is an animal park in Bardu municipality in the county of Troms and Finnmark.
Opened in 1994, the park is based on exhibiting animals in their natural surroundings which means that each species also gets a lot of room to romp around. Last winther three bear-cubs was born in the park.
Visit https://polarpark.no/en/
Visit Bardufoss – Destination Snowman
Destination Snowman besitter stor lokalkunnskap, ekspertise og ressurser, og er spesialister i å tilby eventer, aktiviteter, turer, transport- og logistikk.
Gjør Reistadløpet til din skiferie! Kom litt tidligere eller bli litt lengre slik at du kan oppleve mange fantastiske vinteraktiviteter – i tillegg til fantastisk landskap.
Dere kan velge blant følgende aktiviteter; hundekjøring, isfiske, alpint, samisk kultur, elgsafari, fore reinsdyr, jakte på nordlyset, snøscooterkjøring, trugegåing og lek i snøen.
Destination Snowman is working as a Destination Management Company (DMC), possessing extensive local knowledge, expertise and resources, specializing in the design and implementation of events, activities, tours, transportation and program logistics. We also provides ground service based on local knowledge.
Make Reistadløpet to your winter holiday. Came a few days in advance or stay a few days after the Reistadløpet so you can experience many wonderful winter acitivities in addition to the stunning scenery.
You can choose among these activities; dog sledding, ice fishing, alpin skiing, sami culture, wild moose safari, feed the reindeer, hunting the northern light, snow mobile-driving, snow shoeing and snowman funzone.
Visit  https://visitbardufoss.no/reistadlopet/  
Senja – a Norway in miniature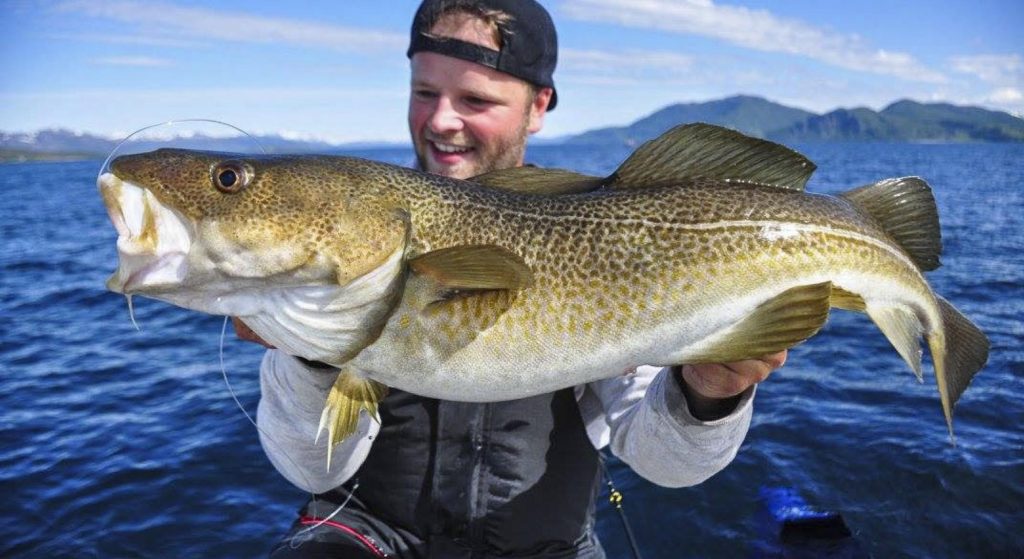 Senja er Norges nest største øy, og ligger rett ved et av verdens rikeste fiskefelt. Senja er kjent som et «Norge i miniatyr», og kan tilby mange unike naturopplevelser gjennom hele året. Alt innenfor et par timers kjøring. Her kan dere oppleve både nordlyset om vinteren og midnattsolen om sommeren. Dette er dog bare to av veldig mange grunner til å besøke Senja og dermed oppleve en av Norges mest attraktive destinasjoner.
Senja is Norway's secong largest island and situated in one of the richest fishing grounds in the world. Senja is known as «a Norway in miniature» and can offer a unique diversity and deep experience of nature throughout the year. All within a few hours drive. Here you can see the Northern Lights in winter as well as midnight sun in summer. These, however, are just two among many reasons to visit us and experience one of the Norway's top travel destinations.
Visit https://www.visitsenja.no/en
Tromsø – a northern light city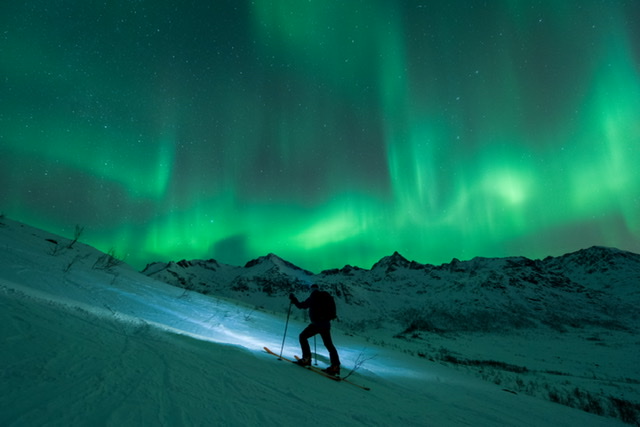 Kle på deg ullundertøy og en varm jakke, og besøk oss i den arktiske hovedstaden Tromsø. Vi ser som regel snøen for første gang i oktober og fra da av blir det mørkere (og kaldere) for hver dag som går. Før mørketida setter inn for fullt kan du oppleve magiske farger både morgen og ettermiddag, i det solen forsvinner i horisonten. Fargespillet på himmelen går i alt fra oransje og rosa til blått og er fascinerende, også for de lokale som bor her.
Opplev vinteren i Tromsø og nordlyset som danser over himmelen. Vi tilbyr aktiviteter som hundeslede, samiske opplevelser, ski og truger, i tillegg til nordlysopplevelser på land og fra havet.
Put on your wool and warmest jacket and join the Arctic Winter Wonderland in Tromsø. We usually see the first snow in October, and from there on it gets darker (and colder) day by day. In the period before the Polar night season starts you can experience magical colours both in the morning and afternoon, as the sun slowly disappears in the horizon. A play of colours ranging from orange and pink to blue is fascinating, even for the locals living here all year long.
Winter in Tromsø is truly an experience with the Northern Lights dancing above you in the sky. Tromsø offer a wide range of activities including dog sledding, Sami experiences, skiing and snowshoeing, and Northern Light experiences both on land and from the ocean.
Visit https://www.visittromso.no/seasons/winter
Lyngen Alps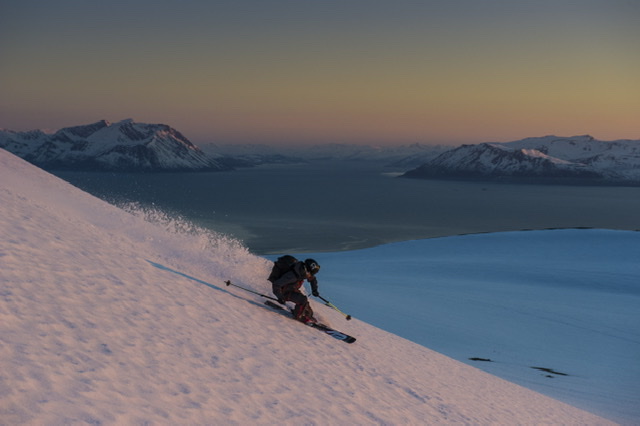 Lyngsalpene, med sine opptil 1.833 meter høye topper, blå isbreer, myldrende iselver og dype raviner, er et av Norges mest dramatiske landskap. Å gå opp til toppene og kjøre nedover på ski I de uberørte snødekte fjellsidene som strekker seg helt ned til bredden av Lyngenfjorden, er en opplevelse ut av en annen verden. Lyngsalpene tilbyr opplevelser bade for den erfarne og uerfarne. Og hvis du ikke liker å stå på ski, er en sightseeingtur gjennom Lyngen med bil noe vi alle kan glede oss over.
The Lyngen Alps, with its up to 1,833 meter high peaks, blue glaciers, gushing glacial rivers and deep ravines, is one of Norway's most dramatic landscapes. Summit the peaks and ski down the untouched snow-covered mountainsides, which stretch right down to the shores of the Lyngenfjord is a once in a lifetime experience. There Lyngen Alps offers experiences for both the the experienced and unexperienced one. And if you are not a skier, a sightseeing tour of Lyngen by car is something we can all enjoy.
Visit https://www.visit-lyngenfjord.com for more information or to book a mountain guide