Ski Classics sesong XV sin siste doble Pro Tour-arrangementshelg, med Reistadløpet og Summit 2 Senja, begge i Norge.
Lørdag 6. april starter Ski Classics med Reistadløpet, sesongens 13. stevne og en av de mest krevende løypene i touren. Det 50 kilometer lange langdistanseløpet starter på Setermoen, som ligger i Bardu kommune i Norge, og går gjennom arktiske landskap og fjelltopper før det kommer til mål på Bardufoss i Målselv kommune.
Søndag 7. april arrangeres nykommeren fra forrige sesong, Summit 2 Senja, det 14. og nest siste arrangementet i sesong XV. Det 60 kilometer lange løpet starter på Bardufoss og ender på Finnsnes, og går gjennom fantastiske landskap. Summit 2 Senja er et løp fra fjell til fjord, som involverer ytterligere to kommuner, Sørreisa og Senja.
Summit 2 Senja har sitt utspring i Reistadløpet sitt motto: «Utvikle skisporten i regionen». Dette er et samarbeidsprosjekt med formål å etablere en unik infrastruktur for ski og folkehelse, med et hovednett på 100k m skiløyper mellom Finnsnes og Setermoen.
Reistadløpet er åpent for alle, PRO Team-utøvere og fritidsløpere/trimmere, mens Summit 2 Senja kun vil være et løp for PRO-team og eliteløpere. Reistadløpet ser frem til å videreutvikle konseptet og få på plass unike bidrag til folkehelse, næringsliv og liv i Ole Reistads ånd.
For Reistadløpet og Summit 2 Senja i sesong XV, ikke forvent mindre enn en spektakulær opplevelse.
NB! Summit 2 Senja vil i 2024 være 60 km, løypeprofil vil bli oppdatert!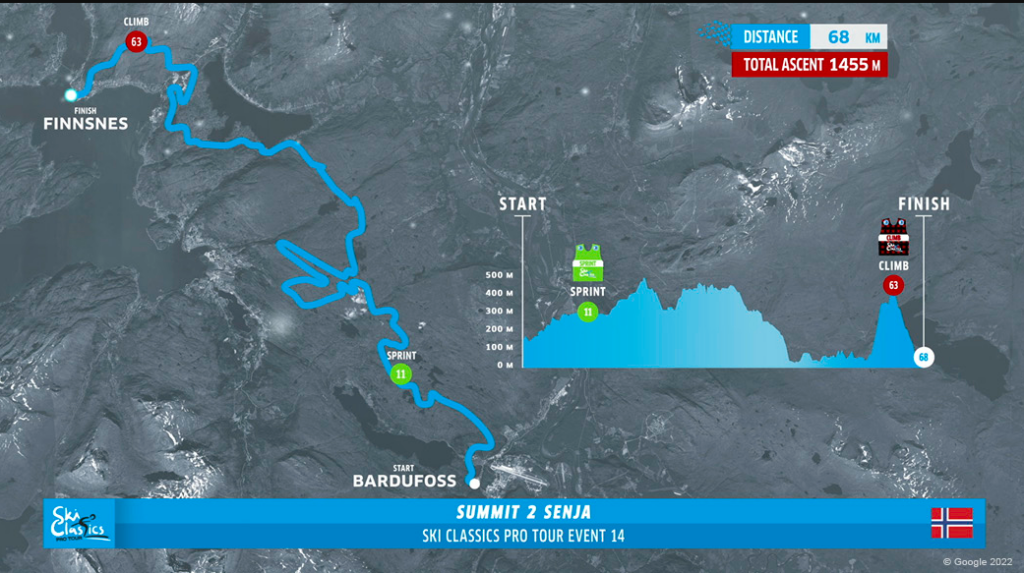 Ski Classics season XV's final double Pro Tour event weekend, featuring the Reistadløpet and Summit 2 Senja, both in Norway.
On Saturday, April 6th, Ski Classics kicks off with the Reistadløpet, the 13th event of the season and one of the most demanding courses in the tour. The 50-kilometer long-distance race starts in Setermoen, located in the Bardu municipality of Norway, and traverses arctic landscapes and mountain peaks before finishing in Bardufoss in the Målselv municipality.
On Sunday, April 7th, we have the newcomer from the previous season, Summit 2 Senja, the 14th and penultimate event of season XV. The 60-kilometer race starts in Bardufoss and ends in Finnsnes, passing through breathtaking landscapes. Summit 2 Senja is a race from mountain to fjord, involving two additional municipalities, Sørreisa and Senja.
Summit 2 Senja is rooted in Reistadløpet's motto: «Developing skiing in the region.» This is a collaborative project aimed at establishing a unique infrastructure for skiing and public health, with a main network of 100 km ski trails between Finnsnes and Setermoen.
Reistadløpet is open to everyone, including PRO Team athletes and recreational skiers, while Summit 2 Senja will be exclusively for PRO teams and elite skiers. Reistadløpet looks forward to further developing the concept and contributing to public health, business, and the spirit of Ole Reistad.
For Reistadløpet and Summit 2 Senja in season XV, expect nothing less than a spectacular experience.
Please note that Summit 2 Senja will be 60 km in 2024, and the course profile will be updated.