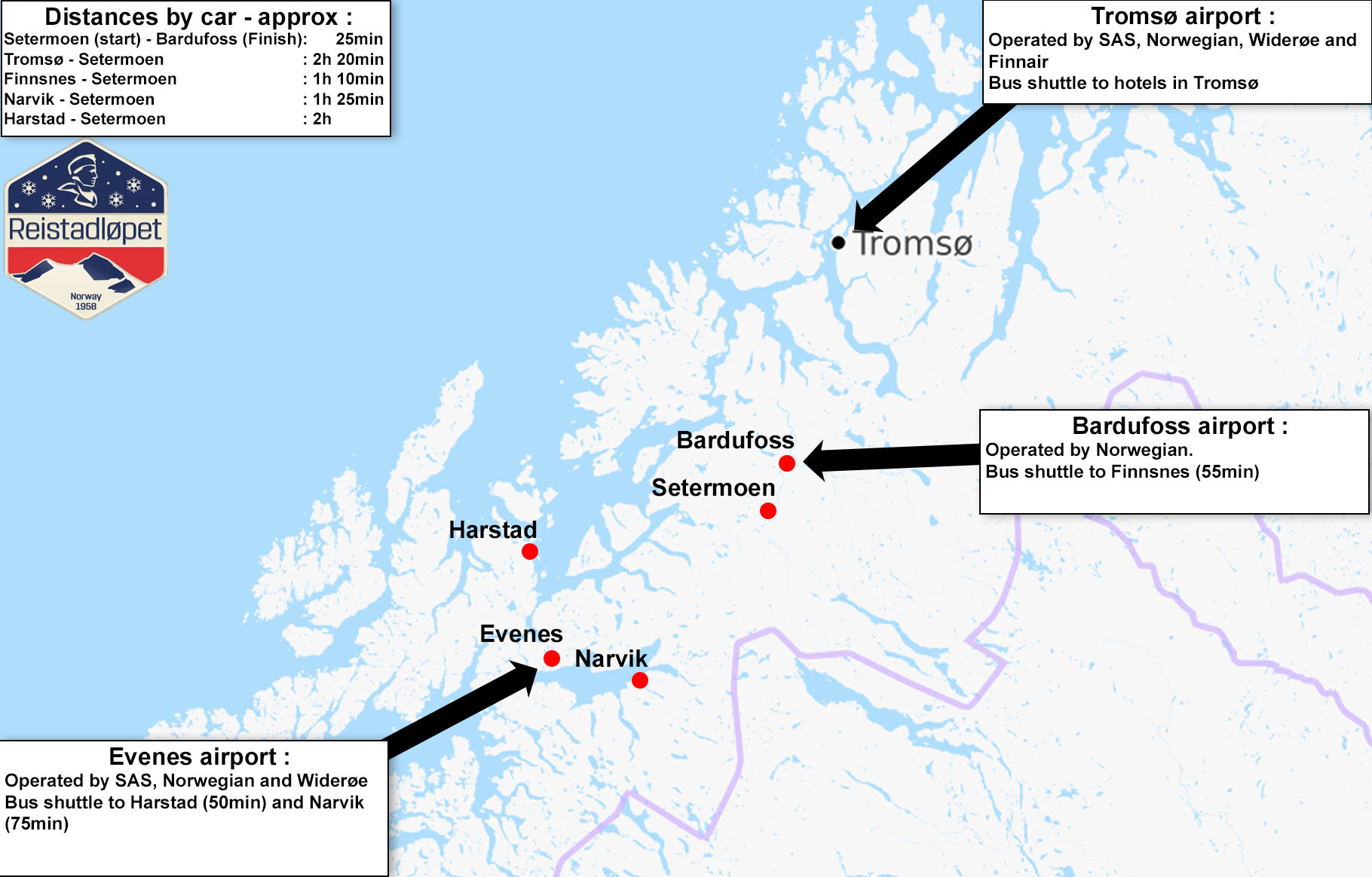 HOW TO GET TO «REISTADLØPET»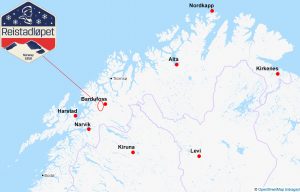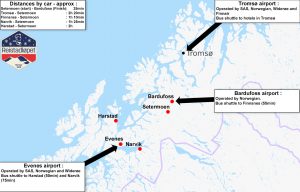 "It is easy to travel to the area where Reistadløpet takes place but hopefully not so easy to leave!"

There are many different ways to travel to Reistadløpet and all of them fairly easy.
BY PLANE
The airport of Bardufoss (BDU) is the nearest airport, 27 km from Setermoen in Bardu and only 4 km from the finish line at Bardufoss. "Norwegian" is the only airline that operates at Bardufoss.
It is also possible to fly to the Harstad – Narvik airport, Evenes (EVE). Several airlines operate on this airport such as "Norwegian", "SAS" and "Widerøe".
You may also go to Tromsø (TOS). The airlines operating this airport are "Norwegian", "SAS", "Widerøe", "Finnair" and "Wizzair". The estimated driving times from these airports to Setermoen, are indicated in the map above.
From Bardufoss, there is a bus connection only to Finnsnes. From Evenes and Tromsø it is possible to find connecting buses, please check the timetables.
Rental cars are available at all three airports. Follow the directions on to the E6 and then follow the E6 to Setermoen and Bardufoss.
There are no train services in this part of Norway. However, it is possible to go by train to Fauske in the county of Nordland and then continue by bus or rental car to Setermoen and Bardufoss. From Sweden it is possible to go by train to Narvik. Timetables at www.sj.se
BY EXPRESS BOAT/COASTAL STEAMER
Ii is also possible to arrive by express boat from Tromsø or Harstad, both stopping at Finnsnes. From there it is possible to continue by either bus or rental car.
The coastal steamer is also an alternative way of travelling. The coastal steamer which travels along the Norwegian coast from Bergen in the south-west of the country to Kirkenes in the north-east, daily calls at Finnsnes which is the nearest stop to Reistadløpet. After the race, you may board the steamer for as long as you like and travel either north to Kirkenes or south to Bergen. The coastal steamer – the most beautiful sea voyage in the world.