How to get here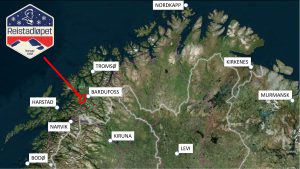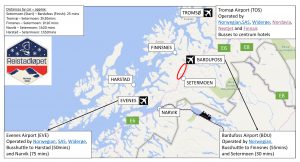 There is a lot of different ways to go to Reistadløpet!
By air:
Bardufoss airport is the nearest with only 27 km to Setermoen, and only 4 km from the finishline at Bardufoss. Bardufoss airport (BDU) is operated by Norwegian and Widerøe.
You an also fly to the airports at Evenes (EVE) operated by (Norwegian, SAS and Widerøe) or Tromsø (TOS). Companies operating at Tromsø are Norwegian, SAS, Widerøe, FlyViking, Finnair, Nordavia and Nextjet. Driving hours from the airports to Setermoen are shown on the map above.
There are bus-connections from all 3 airports.
From Bardufoss direct bus after arrival. From Evenes and Tromsø bus transfer. Check bus schedule!
Rental cars are available at all airports. Go to E6, then follow E6.
By train:
From Sweden you can also take the train to Narvik. Check the timetables at www.sj.se
By boat
For an extra adventure you can also go by speed boat which is a catamaran going between Tromsø and Harstad with stop at Finnsnes. From Finnsnes it is possible to go by bus or rental cars picked up at Finnsnes.
You can even take the coastal ferry. She starts in Bergen and ends in Kirkenes, or vice versa, and the hole tour along the Norwegian coastline takes about a week. But you can board the coastal ferry at any stop along the Norwegian coast between Bergen and Kirkenes, and go ashore at Finnsnes, which is the nearest stop, or, on the way back home you board in Finnsnes and take the coastal ferry as long as you want.